Welcome
---
L
et us take you back in time with a romantic ride through the Old Port of Portland, Maine. Just one of the many pleasures of a horse drawn carriage or trolley ride is that time seems to pass a little slower. Once on the ride you can hear the birds chirp while the horses' hooves clip and clop on the ground before you. You will notice details on the buildings you pass and the beauty of flowers in bloom. These are but a few of the things that will make your carriage or trolley ride romantic and fun.
The carriage is clean and well cared for and our driver professional and courteous. Our two horses are Clydesdales that will strive to make your day a special one and are guaranteed to make you smile.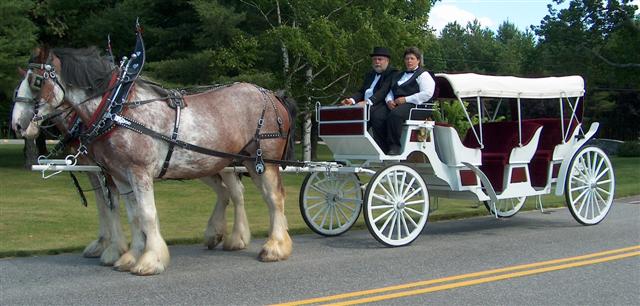 Our white horse-drawn Wedding Carriage with its burgundy interior will help make your wedding the unique and memorable event you desire. We also have a JUST MARRIED sign for the rear. Our Wedding Carriage is not expensive, it's priceless!
Join us for a winter ride in the Old Port and see the Christmas lights, listen to the carolers, and truly experience the season. Our trolley holds about twenty passengers and our carriage holds six.

---
To Contact Us:

HEATHER PHINNEY
ERNEST ROGERS
309 Mayall Road
Gray, ME 04039
207-838-4407
E-mail: [email protected]