Special Occasions
---
O
ur horse drawn carriage service is specifically designed for Special Occasions, such as weddings, anniversaries and graduations. We work with our clients to provide the carriage ride that completes their dream occasion.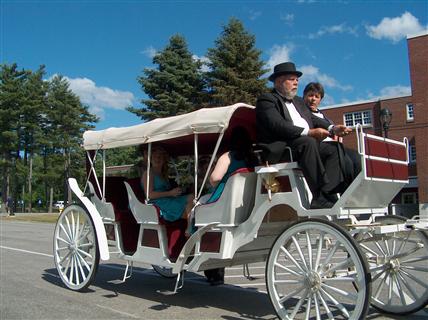 When hired for a wedding, the ride can be used to arrive at the wedding, between the wedding and the reception, or leaving the reception. For other special occasions, the ride can be used as a precursor to a special dinner, or as that special conveyance for the Beauty Queen in a parade. Your imagination is the limit.
Weddings—Family Reunions—Festivals and Parades—Funerals.
Special Events: Taxi services, short distance tours, neighborhood rides.
Please call for more information regarding your event!


---
To Contact Us:

HEATHER PHINNEY
ERNEST ROGERS
309 Mayall Road
Gray, ME 04039
207-838-4407
E-mail: [email protected]